Willkommen aus Biberach
Guernsey und Biberach – gemeinsame Geschichte verbindet.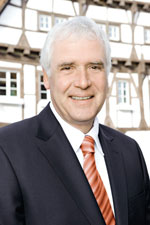 Rege Besuche von Einzelpersonen, Familien, Chören, Musikgruppen und Vereinen verbinden heute über 1.200 Kilometer hinweg die Kanalinsel Guernsey und die süddeutsche Stadt Biberach an der Riss. Anders war es vor knapp 70 Jahren, als während des Zweiten Weltkriegs, von September 1942 bis April 1945, rund 1.200 Menschen der Insel im Lager Lindele am Rande von Biberach interniert waren.
Trotz dieser schrecklichen und verbrecherischen Erfahrungen die von deutschem Boden ausgingen wurden menschliche Kontakte zwischen Internierten und Einheimischen geknüpft, und diese Beziehungen sind durch familiäre Freundschaften bis heute am Leben erhalten worden. Und nun sind nach Besuchen ehemaliger Deportierter und ihrer Familien in Biberach und einiger Biberacher Bürger und Gruppen in Guernsey herzliche Freundschaften entstanden. Aus den anfangs zögerlichen Begegnungen auch zwischen offiziellen Vertretern ist der Wunsch entstanden, mehr Menschen beider Seiten in Verbindung zu bringen. Dazu haben sich hier wie dort Freundeskreise gebildet.
Ich bin fest überzeugt, dass Information und Wissen in einer Gesellschaft dazu beitragen, dass Menschen sich gegenseitig anerkennen und Konflikte friedlich austragen. Der kulturelle Dialog ist dabei ein wichtiger Baustein. Seit 1997 unterstütze ich persönlich deshalb die immer enger werdenden Kontakte zu Guernsey. Die zahlreichen gegenseitigen Einladungen und meine eigenen Besuche auf der Insel, die durch ihre Lage schon immer offen für die Welt war, zeigen mir, dass wir alle viel voneinander lernen können. Dies passt zum Biberacher Motto "traditionell weltoffen".
Wir dürfen und wollen die schreckliche Internierungszeit nicht vergessen, doch als Biberacher Oberbürgermeister möchte ich dazu beitragen, dass wir aus der damaligen Schuld lernen und Beziehungen und Freundschaften aufbauen. Dass diese Bemühungen auf höchster Ebene honoriert wurden, ehrt und freut uns alle!

Ihr
Thomas Fettback, OBE
Ehemaliger Oberbürgermeister der Stadt Biberach an der Riss
Guernsey and Biberach – History Connects
Regular visits from individuals, friends, families, choirs, music groups and teams are connecting over 1200 kilometers between the Channel Island of Guernsey and the south German town of Biberach an der Riss. It was very different 70 years ago, when, during the Second World War, from September 1942 until April 1945, approx 1200 people from the Island were interned at Camp Lindele, at the edge of Biberach.
Despite these terrible experiences, which happened on German soil, human contacts were formed between internees and locals, and these friendships weere nurtured & developed through family contacts, up until today.
Now, after many visits between deportees and families in Biberach, along with other Biberach citizens and groups, a deep friendship has developed. From the initial, hesitant visits between official representatives, a deep wish to engage more people from both sides became stronger, and real friendships were formed.
I am convinced that information and knowledge in today's society allows humans to overcome their differences in a friendly & positive way. Cultural dialogue is also an important building block.
Since 1997, I have fully supported the ever growing contacts with Guernsey. Numerous mutual invitations and visits to the Island (which, because of its location, is an open gateway to the world) has shown me that we can all learn from each other. This fits perfectly with the Biberach saying, 'Open to the world'.
We should not and will not forget the terrible period of internment, but, as Mayor of Biberach, I would like to add that we have learned from our guilt, and are proud to develop relations and friendships in this way – a way that provides us with a reward and great joy.
Yours,
Thomas Fettback, OBE
Former Mayor of Biberach