Guernsey, Sark & Biberach - Celebrating 20 years of friendship
By Chris Betley, German Honorary Consul to Guernsey
An enjoyable part of the Honorary Consul's role has been to experience the acts of friendship and reconciliation that have developed between Guernsey, Sark and the town of Biberach, in southern Germany, a place that became the involuntary home for many island residents during the dark days of the Occupation.
September 2017 celebrates the 20th anniversary of the first official acts of friendship between these two communities, so it seemed appropriate to spotlight this special occasion.
I can't recall having heard much about Biberach before taking on my honorary German position in 2008. But then, the name of the German town probably didn't mean much to many in Guernsey or Sark until September 1942 (and again in February 1943), when orders were given for 1,003 mainly English born men, and their families, to be deported & sent firstly to Dorsten, in Germany, before finally around 700 ended up at Lager Lindele, an internment camp in Biberach, which became their home for the duration of the war (and for whom Liberation Day remains 23 April 1945, when they were freed by French forces).
Many who experienced captivity in Camp Lindele then became actively involved in the subsequent acts of reconciliation, many years later.
Tom Remfrey was just a young boy who ended up spending his formative years in Biberach. He later established, and continues to Chair, the Guernsey Deportees Association.
Gloria Dudley-Owen and her brother, David Skillett, were both born in Biberach. Gloria is now Chairperson of the Guernsey Friends of Biberach, whilst David remained close to his German 'Milch Bruder' (Milchbruder), Heiner Koch (who was born on the same day), until his death in 2014, and is also an active committee member of the Guernsey Friends.
Their stories, along with those of so many others, are simply too long and important to give proper credit to now, but they epitomise the background to the activity that took place in 1997 with the Week of German Reconciliation, organised by Guernsey's Council of Churches, following the 50th anniversary of the Liberation. An invited group from Biberach came to Guernsey that week, and the following year, Peter Lane and Rosemary Jagger returned their visit with a party of deportees.
It is important to mention similar efforts being made in Biberach at the same time. In particular, those of a determined German lady, Frau Marianne Sikora-Schoeck. Gloria Dudley-Owen explained, 'During a visit to Jersey in the early nineties, Frau Sikora visited the museum there and saw an exhibition concerning the deportation and internment of islanders. On her return to Biberach, she learnt of the deep friendship between Frau Maria Koch and my mother, Gladys Skillett, which had started at the birth of their sons in 1943, in Biberach Hospital, and made contact with Gladys.
In 1995, Marianne told Gladys she intended to visit Guernsey for Liberation Day. She wanted to meet the Bailiff of Guernsey, Sir Graham Dorey, and give him an official letter from Mayor Thomas Fettback, who wanted reconciliation between Biberach and the Guernsey Deportees. Gladys arranged this meeting'.
In 1999, a larger group from Biberach came to Guernsey, again hosted by the Guernsey Deportees and Council of Churches. This led to another trip to Biberach, before Oberbürgermeister Thomas Fettback then invited Guernsey's Bailiff to visit them as well. As Herr Fettback later commented, 'From the initial, hesitant visits between official representatives, a deep wish to engage more people from both sides became stronger, and real friendships were formed'. He himself was later recognised by Her Majesty Queen Elizabeth II with an Honorary OBE. 
The momentum continued with the support & enthusiasm of many, many individuals from both sides, culminating, as it did, with the formation of the Guernsey Friends of Biberach, under the charismatic leadership of Chris Day – who sadly died earlier in this anniversary year – and the Biberach Friends of Guernsey, led by the irrepressible Rotraud Rebmann. Both were steadfastly supported by Irene Harvey, who provided a pivotal point for shared information between the two groups.
What has particularly impressed me is the diversity of support shown by so many people, in so many ways, to help celebrate this reconciliation, be it through music, student exchanges, official invitations & events or simply personal friendships, across all ages.
Christine Anthony, for example, has taken her celebrated Bel Canto choir to perform in Biberach on several occasions, whilst the Guernsey Music Service has established its own firm links with German musicians over the years, helping to organise many return visits by the Biberach Flute Choir, Symphony Orchestra, Quintet and Knabenchor (St Martin's Boys' Choir), where Richard de la Rue in particular has provided invaluable support.
The visit of 24 Biberach students from the German War Graves Commission in 2015 was particularly poignant when they brought with them a symbolic Linden 'Tree of Peace' and planted it amongst the 111 buried German soldiers at the Military Cemetery, in Fort George, before a moving service of remembrance and thanksgiving, presided over by Guernsey's Bailiff, Sir Richard Collas.
The tree flourishes in its new home!
Guernsey's own Young Ambassadors have made several visits to Biberach under the inspirational leadership of former headmaster (and German teacher), Ken Wheeler, who has done so much himself to nurture continued links, through language and student experience.
For me, these ongoing initiatives have provided living proof of the power individuals have in shaping friendships & developing special relationships that are so important in making our island, and world, a better place. This seems particularly apt in the current climate of far right rhetoric that has been heard, more and more, in recent months.
September 2017 in Guernsey will have witnessed the celebration of 20 years of friendship and reconciliation. May this continue to flourish and grow.
Or, in the words of another ardent supporter, Sir Geoffrey Rowland – who was involved personally, as the then Bailiff of Guernsey – when he declared, 'I pay special tribute to citizens at all levels in Biberach and Guernsey who have seized the opportunity and demonstrated that reconciliation can be achieved. Long may reconciliation flourish!'
This article was originally reproduced in The Townie magazine, Issue 10, October 2017.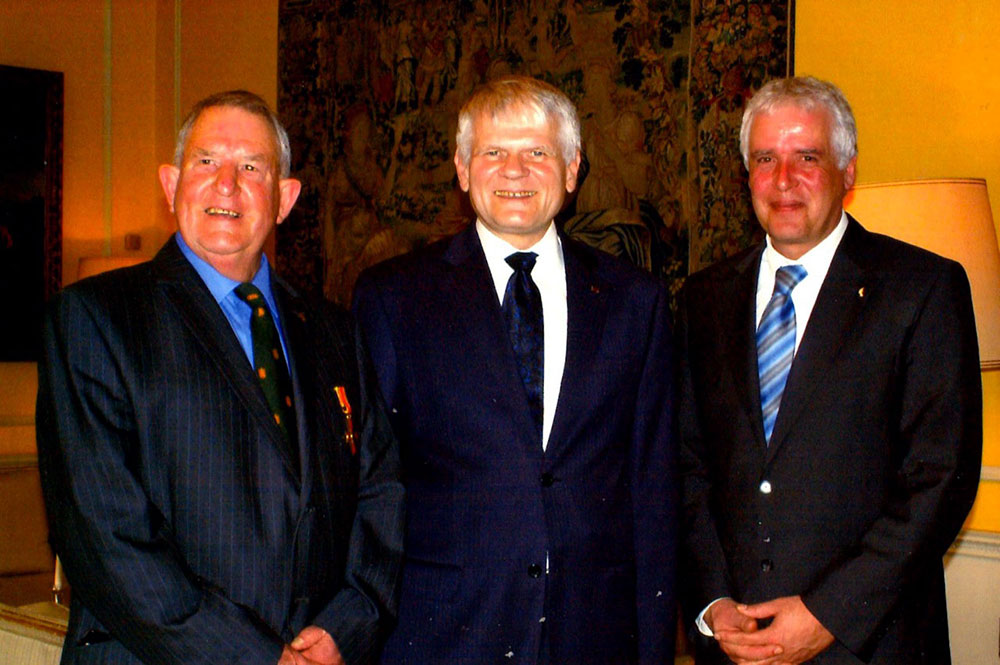 Chris Day, receiving the Cross of the Order of Merit of the Federal Republic of Germany from the German Ambassador, Georg Boomgaarden, (centre), accompanied by Biberach's Mayor, Thomas Fettback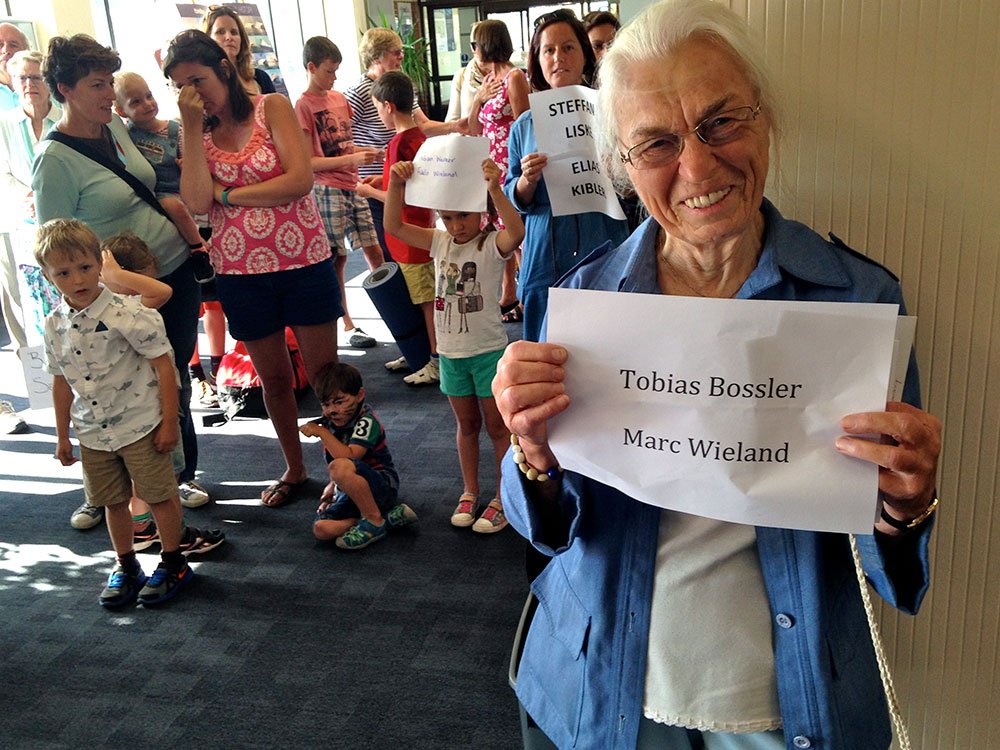 Longstanding supporter and Chair of the Biberach Friends of Guernsey, Rotraud Rebmann, pictured in Guernsey on one of her many visits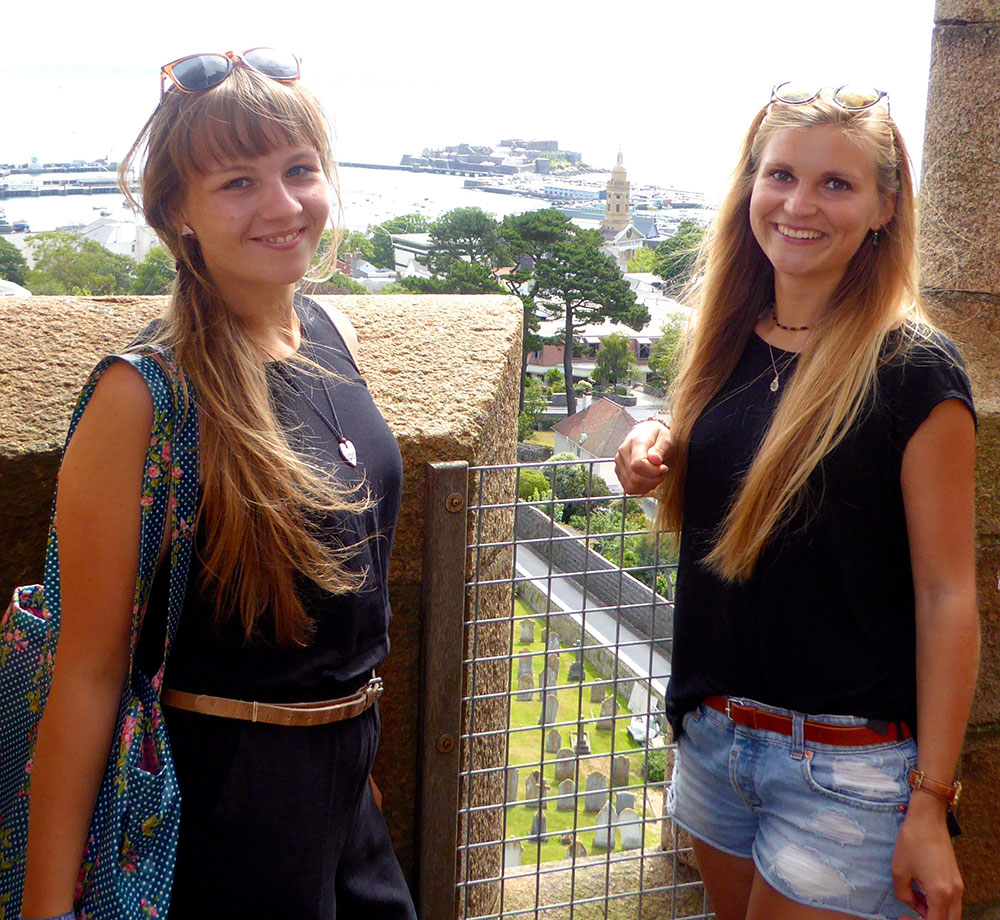 Caro and Luzi, student teachers from Biberach who spent a summer internship teaching in Guernsey
Biberach's Flute Choir performing at Candie Gardens, with conductor Andreas Winter wearing his Guernsey flag tie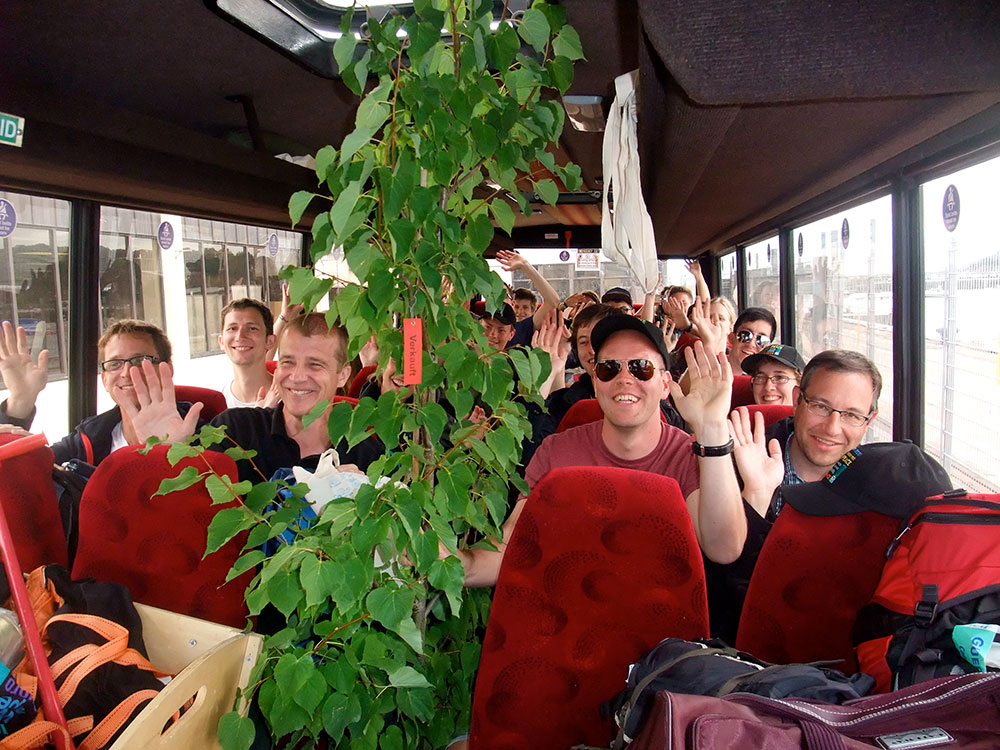 Visiting Biberach students and the Linden Tree of Peace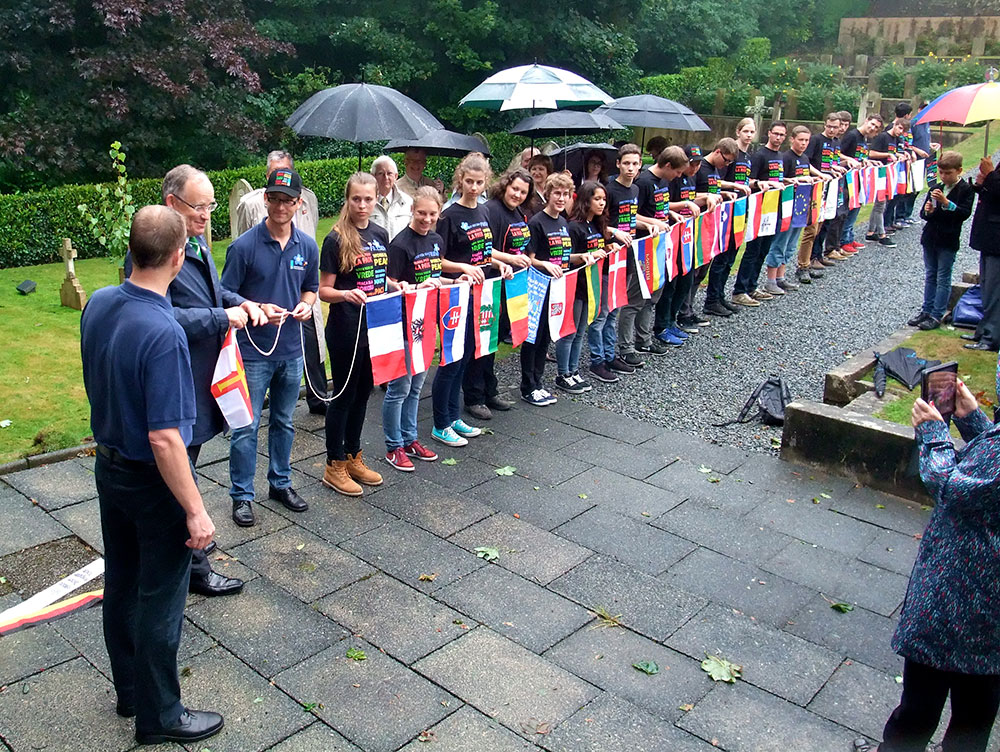 Sir Richard Collas adds the Guernsey flag to the Line of Flags from the German War Graves Commission visit to the Military Cemetery at Fort George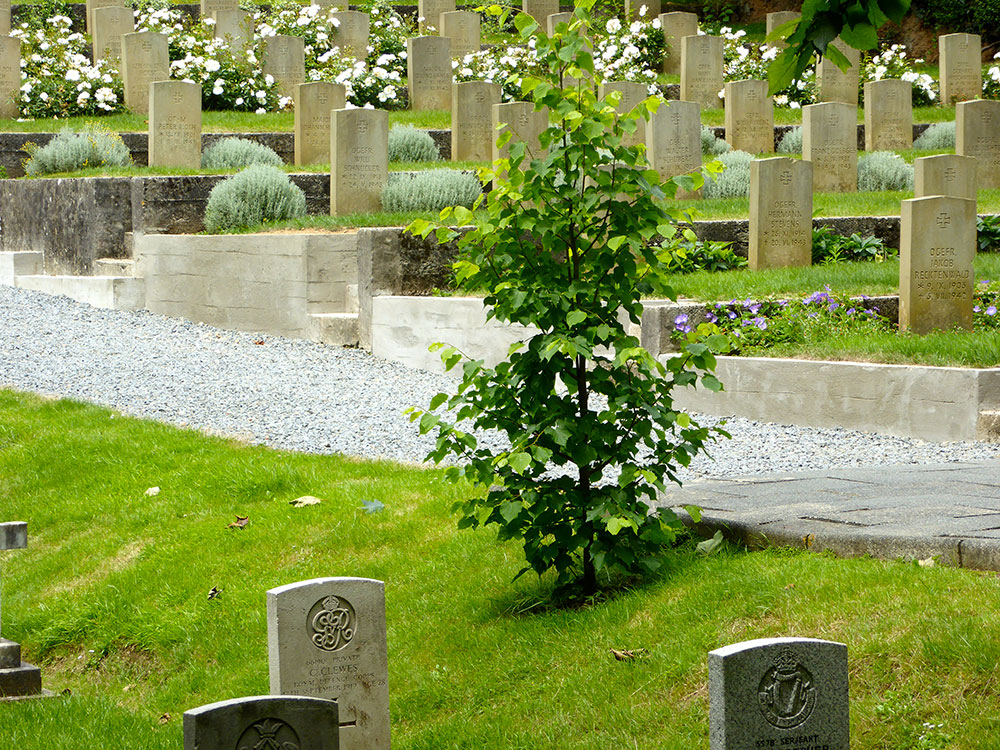 The Linden Tree of Peace, from Biberach, now flourishing in Guernsey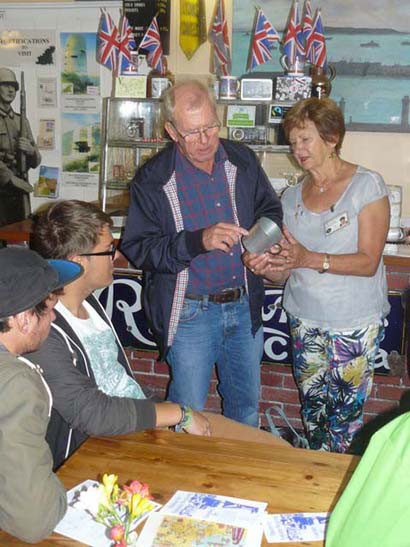 David and Gloria, brother and sister, born in Biberach, share their story with visiting students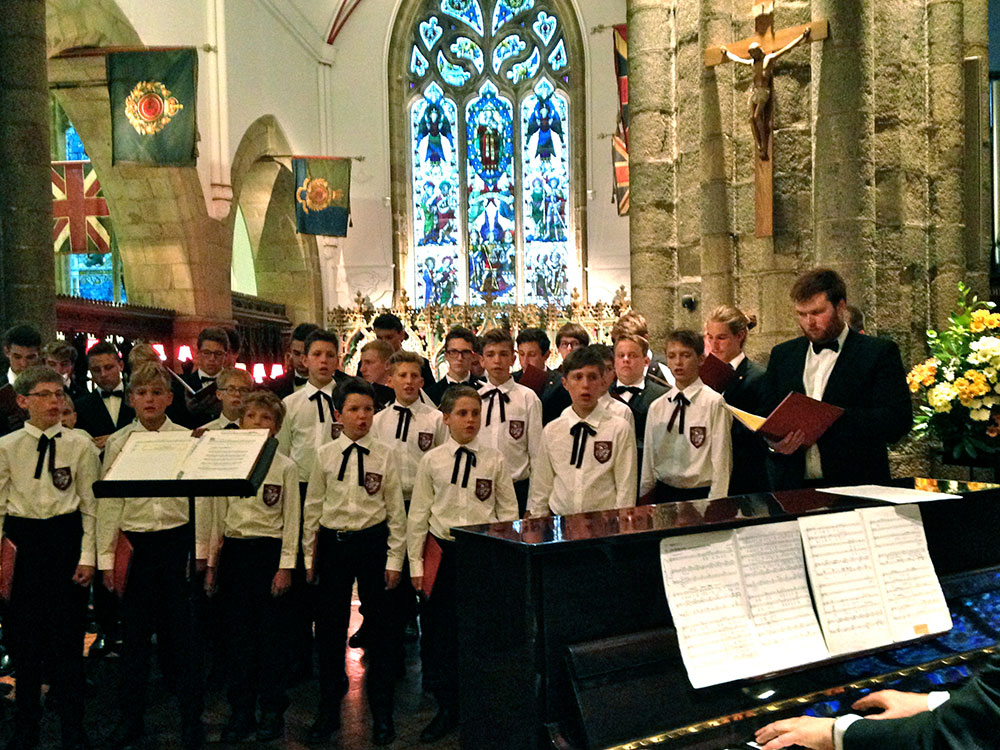 St Martin's Boys' Choir in full voice at the Town Church
St Martin's Boys' Choir at the Willkommen BBQ, L'Anncresse