On the death of Peter Haug
The Biberach Friends of Guernsey and the Partnership Association of Biberach are mourning their former Chairman Peter Haug who died at the age of 84.
When the Biberach Friends of Guernsey were joined with the Partnership Association, Peter Haug became the joint Chairman together with Eberhard Göehner. Both of them were able to take a Guernsey flag home to Biberach in 2004, when they visited the Channel Island on the occasion of the Victor Hugo Music Festival. After 4 years he gave up the role of chairman but he always remained faithful to the Biberach Friends of Guernsey and the Partnership Association.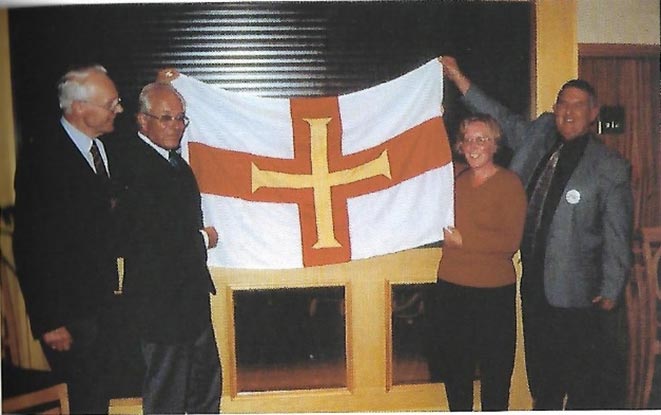 From left to right: Eberhard Göhner, Peter Haug, Irene Harvey, Chris Day.
Peter Haug had been a little boy when Frederick Cockayne, an internee in Camp Lindele, had been working in his parents' garden on Gigelberg. "My first English friend", this is how Peter Haug called him and he remained in contact by letter up to his death in the 1960s. His daughter Margaret Rose returned to Biberach for the first time in 1997 and also made friends with Peter Haug, which lasted up to now.
In honour of Frederick Cockayne they, together with Marianne Sikora-Schoeck, donated a bench at the Weingartenberg with a plaque of commemoration.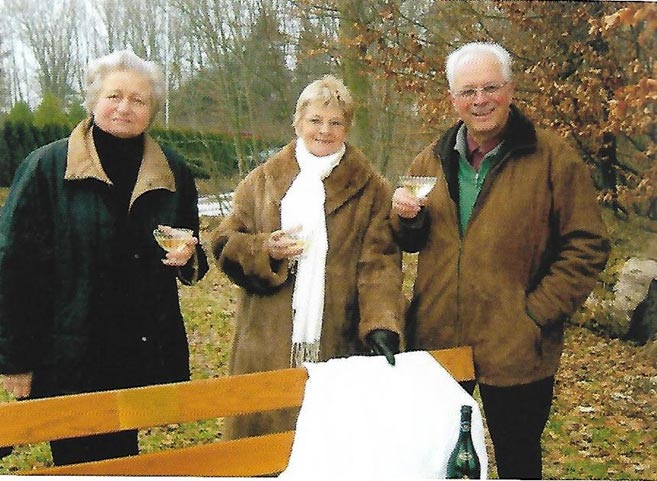 From left to right: Marianne Sikora-Schoeck, Margaret Rose, Peter Haug
The friendship between the citizens of Biberach and Guernsey, which has developed since 1997, was important to Peter Haug and he supported it wholeheartedly. He was always happy to entertain guests from Guernsey and England.
From 2010 to 2015 he was a representative in the Curatorium of the St Martins Choirboys who repeatedly impressed the people in Guernsey as outstanding ambassadors of Biberach. He represented the Choirboys and the Biberach Friends of Guernsey at the funeral of Frances Stanton, the former chair of Churches Together in Guernsey.
The members of the Biberach Friends of Guernsey will always have fond memories of Peter Haug.
---
Zum Tod von Peter Haug
Der Freundeskreis Guernsey und der Verein Städte Partner Biberach trauert um seinenfrüheren Vorsitzenden Peter Haug, der im Alter von 84 Jahren verstorben ist.Als der Biberacher Freundeskreis Guernsey im Juni 2002 dem Partnerschaftsvereinangegliedert wurde, übernahm Peter Haug den Vorsitz zusammen mit Eberhard Göhner.Beide konnten 2004 bei einem Besuch auf der Kanalinsel anlässlich des Victor-Hugo-Musikfestivals eine Guernsey-Fahne für Biberach entgegennehmen. Den Vorsitz gab er nachvier Jahren auf, blieb aber bis zuletzt dem Freundeskreis und dem Verein treu verbunden.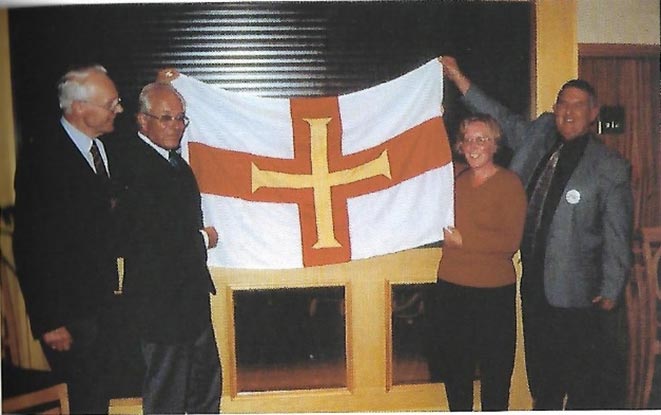 V. l.n.r.: Eberhard Göhner, Peter Haug, Irene Harvey, Chris Day. Foto Göhner
Peter Haug war ein kleiner Junge, als Frederick Cockayne, ein Internierter aus dem LagerLindele, im elterlichen Garten auf dem Gigelberg arbeitete. "Mein erster englischer Freund",so nannte ihn Peter Haug und blieb bis zu dessen Tod in den 60er Jahren in Briefkontakt mitihm. Die Tochter Margaret Rose besuchte 1997 erstmals wieder Biberach und schlossebenfalls Freundschaft mit Peter Haug, die bis jetzt anhielt. Zu Ehren Frederick Cockaynesstellten sie zusammen mit Marianne Sikora-Schoeck 2006 am Weingartenberg eine Bank miteiner Erinnerungstafel auf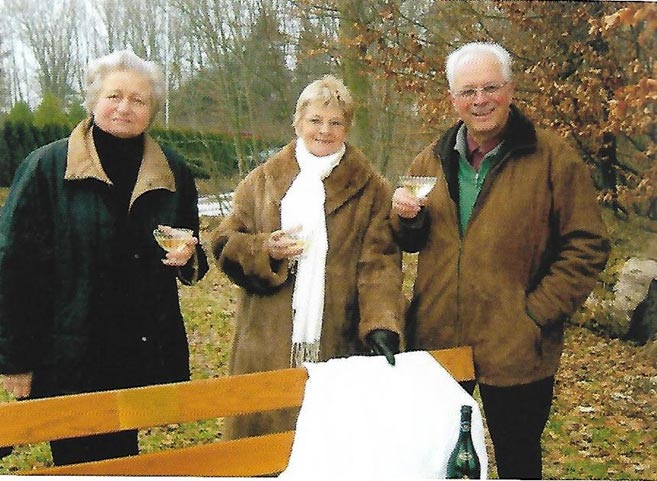 V. l.n.r.: Marianne Sikora-Schoeck, Margaret Rose, Peter Haug. Foto Haug
Die freundschaftliche Beziehung zwischen den Bürgern in Biberach und Guernsey, die sichab 1997 entwickelte, war Peter Haug wichtig und er hat diese immer großzügig unterstützt.Besucher aus Guernsey und England waren bei ihm jederzeit gern gesehene Gäste.
Im Kuratorium der Stiftung der St. Martins-Chorknaben, die wiederholt in Guernsey alshervorragende Botschafter Biberachs begeisterten, war er von 2010 bis 2015 vertreten.Gemeinsam mit einem Chorknaben vertrat er 2007 den Freundeskreis bei der Beerdigungvon Frances Stanton, der ehemaligen Vorsitzenden der Guernsey Churches Together.
Die Mitglieder des Freundeskreises Guernsey werden Peter Haug in dankbarer Erinnerungbehalten.Helga Reiser