New book published about Camp Lindele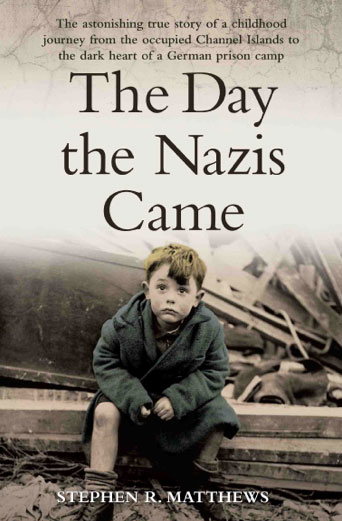 ` The Day the Nazis Came` - a new book by Stephen R.  Matthews has recently been published by John Blake Publishing, London. The book tells more than its title promises, as it is the first publication in English about the internment of Channel Islanders in Biberach, Germany. It is based on the author's childhood memories and his mother's recently discovered diary. Biberach Lord Mayor Norbert Zeidler and the Bailiff of Guernsey, Sir Richard Collas, have written forewords.
The author, born in Guernsey in 1938, describes his experiences during the first stage of German occupation in Guernsey. The talented narrator illustrates the lives of internees during their deportation to Germany from September 1942 to their liberation at Lindele Camp in Biberach on 23 April 1945. Getting back home to Guernsey via England, where his elder brother had been evacuated, was not easy. Strangers had taken over their home and were eating from their china. Terrifying as well as amusing events on both sides of the warfaring parties are depicted in a concilitory way. The boy had his own original ideas in a difficult time: Plan A, for instance, was to find a four-leaf clover in the bleak campground to be able to call a fairy who would take him and his parents straight home and unite him with his cat Dinky. Plan B was to move from his mother's hut over to his father's barack No 6, which he would have been allowed at the age of 7. This was from where British officers had escaped to freedom through a self-dug tunnel in 1941. The boy regretted that liberation came 6 weeks before his 7th birthday.
Looking at the cover photo, showing a puzzled child in a wartime situation, one can imagine how irritated a child must have been in those days.
(Reinhold Adler / Rotraud Rebmann)

Ein neues Buch über das Lager "Lindele" in Biberach
"Ein Buch soll man niemals nur nach seiner Titelseite beurteilen", lautete eine Lebensweisheit des Vaters von Stephen R.  Matthews, dessen Buch "The Day the Nazis Came" kürzlich im John Blake Verlag London erschien. Es handelt sich um die erste englischsprachige Veröffentlichung über die Internierung von Kanalinselbewohnern in Biberach. Oberbürgermeister Norbert Zeidler und der Bailiff von Guernsey, Sir Richard Collas, schrieben Vorworte dazu.
Aus der Sicht eines Kindes schildert der 1938 in Guernsey geborene Autorauf humorvolle Art, was er während der deutschen Besetzung der Kanalinseln erlebte. Der talentierte Erzähler veranschaulicht, wie Internierte von der Deportation nach Deutschland im September 1942 bis zur Befreiung im Lager "Lindele" Ende April 1945 lebten. Die lang ersehnte Heimkehr nach Guernseyüber England, wohin sein Bruder evakuiert worden war, war nicht einfach. Im eigenen Haus wohnten Fremde und aßen von seinem Teller. Schlimme wie erheiternde Ereignisse auf beiden Seiten der Krieg führenden Parteien dieser Zeit schildert Matthews in einem versöhnlichen Ton. Die Einfälle des Jungen in schwerer Zeit sind originell. Sein Plan A bestand beispielsweise darin, auf dem fast kahlen Lagergelände ein vierblättriges Kleeblatt zu finden, um eine gute Fee herbeizurufen, die ihn mit Vater und Mutter wieder heim nach Guernsey zu seiner Katze Dinky bringen würde. Plan B war, nach seinem 7. Geburtstag aus der Baracke, wo er mit seiner Mutter zusammen wohnte, in die Baracke 6 zu seinem Vater umziehen zu dürfen. Denn von dort aus gab es einst einen Fluchttunnel, der schon 1941 britische Offiziere in die Freiheit führte. Zu des Jungen Bedauern kam die Befreiung des Lagers Lindele früher.
Betrachtet man das Bild eines durch die Kriegsereignisse verwirrten Jungen auf der Titelseite des Buches, ahnt man, wie rätselhaft einem Kind damals die Welt der Erwachsenen vorgekommen sein muss. Eine deutsche Übersetzung wäre wünschenswert.
(Reinhold Adler / Rotraud Rebmann)